In Memory
Michael Kinyon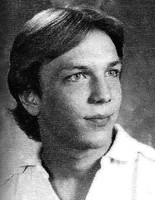 The funeral for Michael Paul Kinyon will be 11 a.m. Saturday at Macken Colonial Chapel, with the Rev. Glenn Frerichs officiating. Burial will be in Grandview Memorial Gardens.
Mr. Kinyon, 36, of Rochester, a service manager for Land O'Dreams, died Friday morning (June 14, 2002) in Rochester. The death was ruled a suicide.
Born Dec. 13, 1965, in Rochester, he graduated from John Marshall High School in 1984 and served in the Marines from 1984 to 1988. Mr. Kinyon enjoyed hunting, fishing, boating and softball.
Survivors include his parents, Paul and Cathy Kinyon of Rochester; a brother, Patrick (Denise) of Rochester; two sisters, Kelly (Doug) Bailey of Zumbro Falls and Ann Kinyon of Lompoc, Calif.; and maternal grandmother, Lucille Aufenthie of Rochester. He was preceded in death by a sister, paternal grandparents and maternal grandfather.
Friends may call from 5 p.m. to 8:30 p.m. Friday at the funeral home.