In Memory
Donna Ingersoll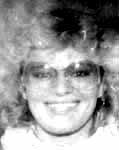 Donna Lee Ingersoll has been missing since 1990
and is presumed deceased.
UPDATE July 2, 2014: A cold case team in Wabasha County has begun refocusing on Donna's 1990 disappearance. Read the Post-Bulletin article.
---
Missing Since: December 17, 1990 from Wabasha, Minnesota
Classification: Endangered Missing
Date of Birth: November 29, 1965
Age: 25 years old
Height and Weight: 4'11, 106 pounds
Distinguishing Characteristics: Caucasian female. Blonde hair, green eyes. Ingersoll's right index finger is shorter than her left index finger. She has a cross tattooed on her right arm. She normally wears eyeglasses, but left them behind when she vanished.
Clothing/Jewelry Description: Blue jeans, boots and possibly a camouflage-print jacket.
Details of Disappearance
Ingersoll was last seen in Wabasha, Minnesota on December 17, 1990. She had been drinking alcohol and got into an argument with her boyfriend, Gary Murphy. She was last seen running out the back door of her residence at 11:45 p.m. Ingersoll has never been heard from again. She did not take her purse, vehicle or any money with her when she vanished. The temperatures in the area that night were very cold, and it is unclear whether she was wearing a coat.
An extensive search of the area turned up no indication of Ingersoll's whereabouts. Murphy committed suicide in the summer of 1991, but it is unclear whether his death was a result of Ingersoll's disappearance. One of her friends stated Ingersoll and Murphy had a good relationship; the friend does not believe Murphy would have harmed her. Foul play may have been involved in Ingersoll's case. It remains unsolved.
If you have any information concerning this case, please contact the Wabasha Police Department at
(651) 565-3261.