In Memory
Phil Meyer VIEW PROFILE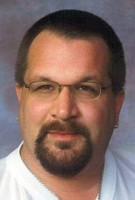 Pastor Philip J. Meyer passed away Monday, Feb. 15, 2016, due to ALS.
Philip John Meyer was born in Faribault, Minn., on Dec. 5, 1965, to Robert and Karen Meyer. The family moved to Rochester in 1968.
He attended Rochester Central Lutheran School through ninth grade and graduated from John Marshall High School in 1984. He attended Concordia College in St. Paul, and graduated with a BA Director of Christian Education Degree with a minor in Church Relations in 1989. His ministry began at Camp Luther in Wisconsin. He was ordained within the Lutheran Church Missouri Synod in 2009. Pastor Phil shared his love of the Lord Jesus Christ by serving at congregations in Idaho, North Dakota and Minnesota, and most recently for St. John's Evangelical Lutheran Church in Buffalo, Minn.
Philip Meyer met Vanessa Poston in 1994, and they married in 1995 at St. John's Lutheran Church in Idaho Falls. They were blessed with two sons, Dylan and Jesse.
Phil enjoyed writing and sharing music, including playing the piano and guitar. He enjoyed the beaches of Cozumel, golfing, and cheering for the Minnesota Vikings.
Click here to see Phil's last Profile entry.