In Memory
Peter Lund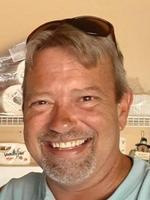 I'm sorry to report the passing of another '84 JMHS alum. ~ Ed.
It is with heavy hearts that we announce the passing of Peter Christian Lund, 55, of LaCrescent, MN. Pete passed away at his home Tuesday, April 20, 2021 from a combination of medical complications.
Pete was born November 24, 1965 in Rochester, MN to Clayton and Luella (Ost) Lund. He grew up in a fun NW Rochester neighborhood where he formed many lifelong friendships. He graduated from Rochester John Marshall High School in 1984. On December 29, 1990 Pete married Stacey A. Walker. The couple lived in Rochester, MN and were blessed with two daughters before moving to Lake City, MN. After many years together in Lake City, Pete and Stacey were divorced and Pete moved to LaCrescent, MN.
Pete worked several jobs throughout his life but is probably best known for his time as owner/operator of For Pete's Sake, a bar in Lake City, MN. Most recently Pete enjoyed his job with Trane Industries of LaCrosse, WI.
Pete was a fun loving man that enjoyed golfing, hunting and fishing. He cut a wide swath when it came to making friends and will be sorely missed by those who knew and loved him. Pete was especially proud of his recent status as "Grampa". Godspeed Pete.
Pete was preceded in death by his grandparents, loving mother Lou and nephew Andrew "AJ" (Laura) Nevenhiem.
Pete is survived by his father, Clayton Lund of Rochester, MN; former wife, Stacey (Brian) Marti of Rochester, MN; Two daughters, Carlee (Shane) Carter of Pine Island, MN and Hannah (Cole) Gilles of Lake City, MN; sisters, Susan (Davis) Jacobs of Rochester, MN, Carol (Craig) Teal of Dubois, WY and Tina Goodspeed of LaCrescent, MN; brothers, Todd (Devon) Lund of Rushford, MN and Dane (Kristy) Lund of Lake City, MN; grandsons, Cason, Eli (Shane and Carlee) and Laken (Cole and Hannah); and Many nieces and nephews and their families.
https://www.postbulletin.com/obituaries/obits/7003895-Peter-"Pete"-Christian-Lund