In Memory
Jill Konakowitz (Hilleshiem)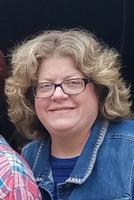 Jill M. Hilleshiem, 52 of Rochester, MN died Monday, May 20, 2019 in Rochester, MN.
Jill Marie Konakowitz was born June 20, 1966 in Fridley, MN to Tom and Diane "Sam" Konakowitz. Jill's life was dedicated to everyone else. This started in 1969 at age 3 when her younger brother, Mark, was born. She became his instant "2nd mother."
She started babysitting at age 11. At age 13, she volunteered during the summer as a teen counselor at Camp Omega Lutheran Church in Waterville, MN. This was the beginning of her career. During middle school, she volunteered in the children's ward at Saint Marys Hospital as a "Candy Striper" and was honored with a medal for over 500 hours served. When a student at John Marshall High School, she worked summers with special needs children in the Park and Rec Programs.
All this strengthened her desire to teach and specialize in Special Education. She attended the University of North Dakota and while there, became a "Big Sister" volunteer at the YMCA. She graduated with honors in 1988 with a BS in Teaching and Learning with a license in Elementary and Special Education. In 2008, she received her master's degree in Special Education from St. Mary's University, Winona, MN.
She started her teaching career in New York Mills, MN. She returned to Rochester in 1991 where she continued to teach "her special kids" until the time of her death.
In 1996, she met and married the love of her life, Sam Hilleshiem. Together they had two "awesome" children, Rena Marie, age 17 and Luke Samuel Thomas, age 15. Jill was a "super mom" and wife. She was involved in every aspect of her children's lives, spending her free time volunteering in all things from church, sports and school.
She taught and served as Sunday School Superintendent at Grace Lutheran Church, was President of the Rochester Civitan Club, was on the board at Aldrich Nursery School, did respite care for Hiawatha Homes clients, worked many years at the Festival of Trees, served on the Elton Hills PTSA, worked with Girl Scouts, was a tireless worker for Rochester Youth Hockey, was on the John Marshall Band Board. Jill assisted with fund raisers at Zumbro Lutheran Church, where she had been a member since 2008, to aid the continuance of many youth activities and mission trips.
OH, she also was a zealous hockey fan... especially a UND "Fighting Sioux" hockey fan. She was known to bleed green and white!!!
Jill is survived by her husband and children, Sam Hilleshiem and Rena Marie and Luke Samuel Thomas of Rochester, MN; her mother, Diane "Sam" Konakowitz of Rochester, MN; one brother, Mark (Tami) Konakowitz; mother-in-law, Nancy Hilleshiem of Rochester, MN; two brothers-in-law, Terry (Stephanie) Hilleshiem of Rochester, MN and Tad (Jennifer Hilleshiem) of Elgin, MN; one niece; two nephews; many aunts, uncles; and cousins. She was preceded in death by her father, Tom Konakowitz and her father-in-law, Francis "Sam" Hilleshiem.
A Funeral Service will be held at 11:00 a.m. at Zumbro Lutheran Church (624 3rd Avenue SW) on Friday, May 24, 2019. Visitation will be held from 4:00 p.m. - 8:00 p.m. on Thursday, May 23, 2019 at Ranfranz and Vine Funeral Homes (5421 Royal Place NW) and one hour prior to the service at the church on Friday. Burial will take place at Grandview Memorial Gardens.
In lieu of flowers, memorial donations can be made directly to the family.
Local news coverage related to Jill's death.........
ROCHESTER, Minn. (KTTC) – Classes will be cancelled at Gibbs Elementary School in Rochester on Friday as students and staff members gather to remember someone they worked with and learned from.
Jill Hilleshiem, 52, was a teacher at Gibbs Elementary in Rochester. She passed away just before 8:30 a.m. Monday after experiencing a medical emergency in a classroom at the school.
A visitation will take place at Ranfranz and Vine Funeral Home between 4 p.m. and 8 p.m. Thursday with a funeral planned at Zumbro Lutheran Church at 11 a.m. Friday.
According to her obituary, Hilleshiem had a master's degree in Special Education from St. Mary's University in Winona. She had been teaching in Rochester since 1991.
A GoFundMe page has been set up to help Hillshiem's husband and two children cover funeral and ongoing expenses.
https://www.ranfranzandvinefh.com/obituary/311957/Jill-Hilleshiem/