In Memory
Drew Hagquist VIEW PROFILE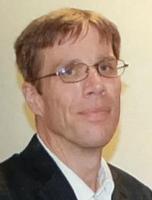 Drew Douglas Hagquist, 53, of Minneapolis, died Tuesday, June 25, 2019, at the University of Minnesota Hospital after a short illness.
Drew was born in Rochester on Jan. 11, 1966, to Donald and Wanda (Olson) Hagquist. He graduated from John Marshall High School and the University of Minnesota with a bachelor's degree, a master's degree and a jurisprudence degree, followed by becoming a Certified Public Accountant.
Drew was a lifelong student who never tired of the classroom. He was very active in the business community in Minneapolis, using all the skills he learned. He will be remembered as a best friend to many and as a source of love and support to his loving mother.
Drew's corneas were donated for transplant as his mother, Wanda, has been the recipient of four corneal transplant surgeries, one lasting 42 years.
Drew is survived by his mother, Wanda Hagquist of Rochester. He was preceded in death by his father, Donald Douglas Hagquist, and his grandparents, Louis and Mollie Olson and Leonard and Eva Hagquist of Hector, Minn.
The family wishes to thank all the people who supported Drew and Wanda through these difficult times and to thank the doctors and staff at the University of Minnesota Hospital for their excellent care and support.
Visitation will be one hour before the funeral at 11 a.m. Monday, July 1, at Our Savior's Lutheran Church, 2124 Viola Road NE, Rochester.
In lieu of flowers, the family asks that donations be made to the Juvenile Diabetes Research Fund, 3001 Metro Drive, Bloomington, MN 55425, or to the space program through www.spacefoundation.org. Drew's longtime wish was to support and bring the space program back to its original glory.
https://www.postbulletin.com/tributes/obituaries/drew-hagquist-minneapolis/article_4b7eee08-7c0e-51b1-a679-dbd176fa8d25.html
Click here to see Drew's last Profile entry.