In Memory
Mark Greenwood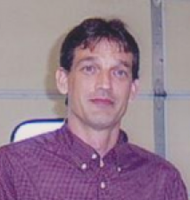 Mark Greenwood, age 44, of Grand Meadow, died Wednesday, January 5, 2011.
He was born January 27, 1966, in Rochester, to Garry D. and Mary (Tlougan) Greenwood. He graduated from John Marshall High School. After his graduation, he became a master mechanic working for Hanson Tire before owning his own business, Thompson Auto Body of Racine, Minn.
Mark was united in marriage to Kristine Rudlong on March 21, 1987, at Our Saviors Lutheran Church in Spring Valley. They were married for 20 years and had five children together.
He is survived by his children, James, Sara, Elizabeth, Cory, and Christopher, all of Grand Meadow; parents Garry (Carol) Greenwood of Arizona and Mary (Robert) Benike of Rochester; sisters Gena (Mike) Heins of California and Gail (Steve) Hermanson of Rochester; and a brother, Bradley Benike of Rochester.
He was preceded in death by a brother, Robert Benike.