In Memory
Dan Fosdick VIEW PROFILE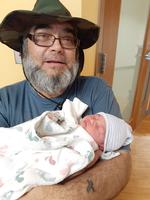 Dan Fosdick passed away on October 28, 2019 from health complications. No official obituary is being written. According to friends, Dan was a proud Army veteran and loved being married to his wife, Marion.
The recent picture was taken in September 2019 when his granddaughter was born. In lieu of a funeral, Dan donated his body to the University of Minnesota.
Click here to see Dan's last Profile entry.